The breathtaking landscapes of Spiti were hidden from the world for a very long time. Travelers now have begun to love this underrated destination located in the state of Himachal Pradesh and call it a 'Mini Ladakh'. With so many very destinations, each with its celebrated sites this hidden gem in a cold desert is worth traveling for! We have come up with the Best places to visit in the Spiti Valley for and an amazing experience.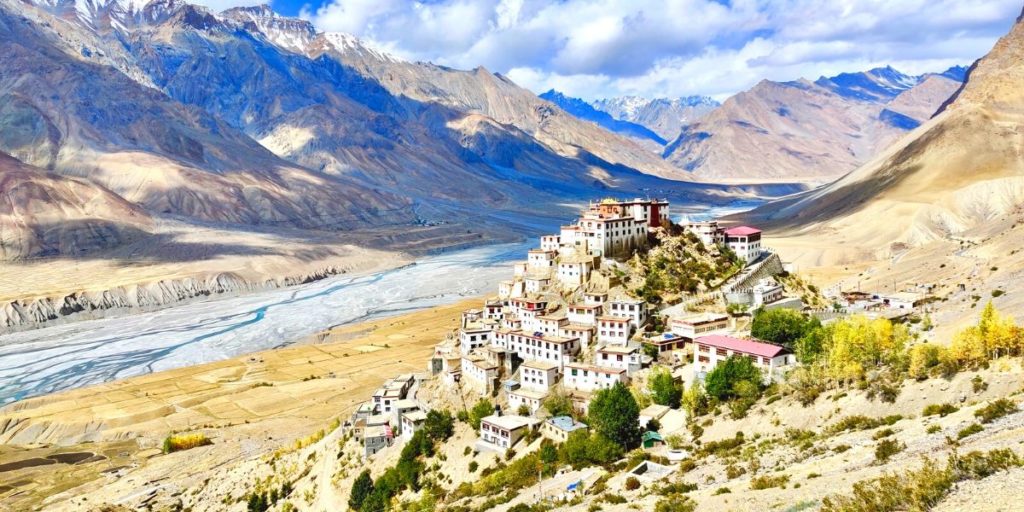 Spiti has got everything from majestic Buddhist monasteries like Key Monastery, Tabo Monastery, Dhankar Monastery to some of the highest villages in the world like Komic and Kibber. These barren landscapes have also embedded in them mesmerizing lakes like Chandratal Lake & Dhankar Lake. Don't forget to take advantage of the serenity of this place from the hustle of the outside world.
Top 12 Places to Visit in Spiti Valley
Here is a list of places which one must visit when planning a trip to Spiti. If you miss any of these, your trip will be an incomplete one? Which are these important sites? Let's read!
12. Kaza
Kaza is a town in the Spiti Valley which is the sub-divisional headquarters and the largest town of this district. It is located at an altitude of 12,500 feet on the left bank of Spiti river. Kaza is divided into two areas – the new and the old Kaza. The old Kaza is called Kaza Khas which has all the ancient buildings, palaces, and monasteries whereas the new Kaza, which is also called Kaza Soma has all the government offices, hotels, and restaurants.
Many popular spots of the Spiti Valley is located around Kaza. Here you can get all types of facilities for stay, network, ATM and so on. It is said that you are visiting Kaza is incomplete if you don't shop something from the market. In the market, you will find beautiful handicrafts made by the locals which you can carry as a souvenir.
11. Langza
Langza village is famous for its ancient fossils, also called as the 'Fossil village of India'. it is located at an altitude of 14,500 feet. When you come to this village you will see a large Buddha statue. The whole village is residing under this statue.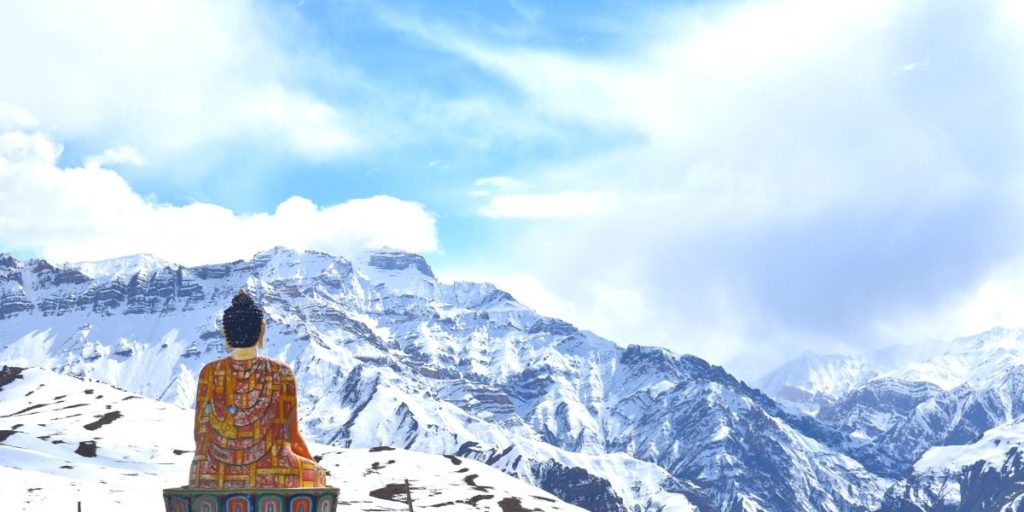 At night when the whole sky is full of stars and this statue gives a mesmerizing sight which photographers love to click. If you want to buy fossils from there you can ask the villagers about it. They will help you with all the details. People here depend on agriculture for their livelihood. Also making shawls, carpets and other handicrafts are common in Langza and help the locals earn money for a livelihood.
10. Komic Village
The Komic village is considered the highest village in the world with a motorable road. This village is located at an altitude of 4587 meters above sea level. Because of this altitude, the population of the village is very less.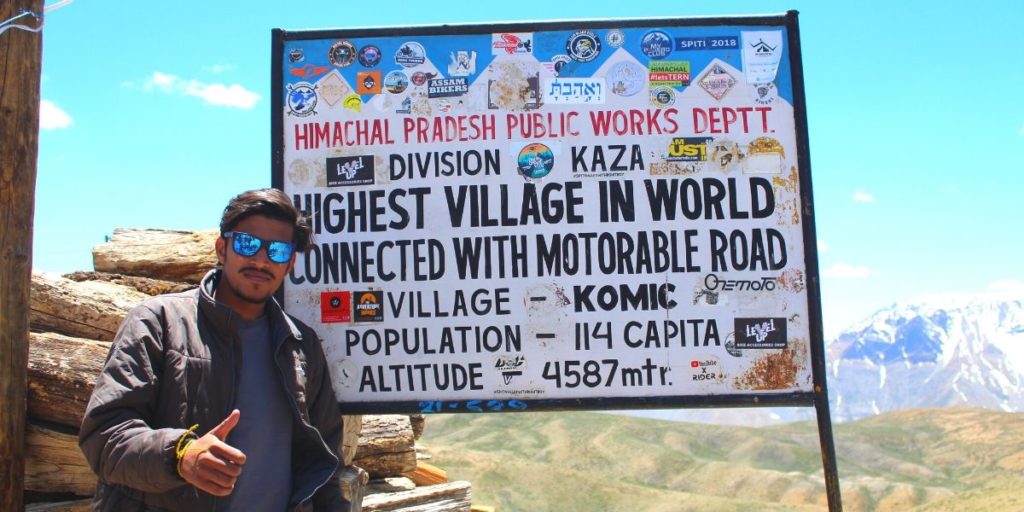 There are only 50 houses and 150 to 200 people. For tourists, there is not much to explore near this village but it is interesting to visit as it holds the title.  There is a board by the Public Work Department which states it as 'the World's Highest Village'.
Travelers coming to this village click them with the board. The people of this village are weighted distance with the modern-day lifestyle. It is very interesting to know about their thoughts and life stories.  Roam around the village and talk to the locals. You will have a wonderful experience.
9. Gue Mummy
Did you know that there is a Mummy in India? The Mummy resides in the village of Gue, which is a part of Spiti Valley located at an altitude of 10,499 feet. It is a small village with a monastery called Gue Monastery.
On one side of this monastery is a small room painted in white colour. The mummy is kept in a glass block. Gue mummy is the only sitting mummy in the world. It is believed to be of Sangha Tenzin and was found by ITBP years ago.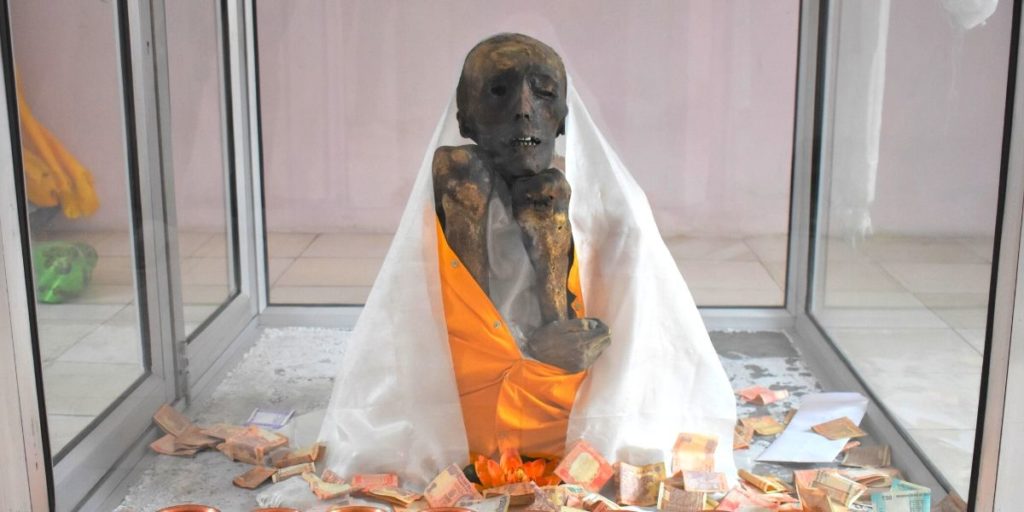 The people of this village believe that is mummy protects the villages from negative energies. People worship this mummy and it holds spiritual importance for all the villagers of nearby villages too. This mummy has been a great subject of research for scientists in the world. For people visiting Spiti, this is one of the most fascinating things to see.
8. Pin Valley National Park
The Pin Valley National Park is one of the biosphere reserves located in the Himalayan region of the country. This National Park is located amazingly in a cold desert at an altitude of 3500 meters above sea level.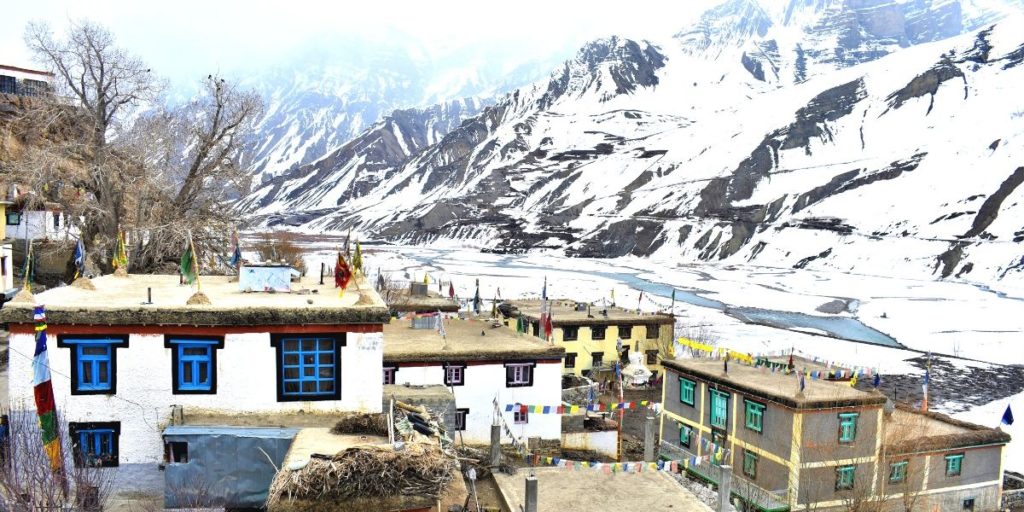 This National Park is home to the snow leopard and many endangered species of animals and birds. A person requires a permit to enter this National Park. Also, this National Park is not open to foreign nationals they need special permission to enter inside it.
Some of the common species found here are Himalayan Ibex, Snow Leopard, Bharal, Wooly Hare, Tibetan Wolf, and Snow Cock. This National Park is famous for its trekking expeditions The amazing experience is very thrilling and refreshing for the trekkers and adventure lovers.
7. Chicham Bridge
There is no surprise that Spiti has some of the most spectacular locations to visit. One such site located in the Himalayas is the World's Highest Bridge situated at an elevation of 4037 meters from sea level. This bridge is 'Chicham Bridge' which is situated above a deep gorge of about a thousand feet.
This bridge connects Kibber village to Chicham village. Earlier there was a dangerous ropeway present here to cross this route. It took 14 years to construct this bridge as it was completed in 2017. Tibetan prayer flags flowing in the air enhances the beauty of this bridge. Travelers love to click themselves on this Bridge which makes it a must-visit site on the trip to Spiti Valley.
6. Tabo Monastery
The Tabo Monastery is the oldest monastery in the Himalayas and the country. It was established in 996. It is located at a height of 10,000 feet in the Spiti Valley. The monastery has spread over an area of 6300 square kilometers.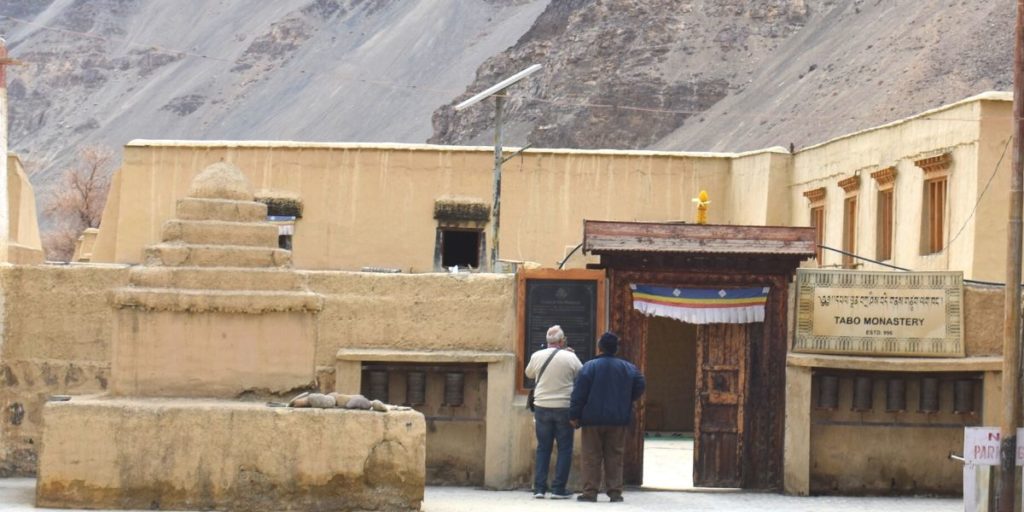 Because of its structure, it is also called as 'Ajanta of the Himalayas'.On the walls of the monastery, you will find beautiful paintings and morals. This monastery has 20 of the Buddhist culture since eternity due to its great importance of the Archaeological Survey of India has taken full responsibility for its maintenance and preservation.
5. Mud Village
The Mud village is a remote village located in the Pin Valley. This village is located at an altitude of 3850 meters above sea level. There are around 30 houses and only 200 people residing in this village. The house's here is made in typical Tibetan style, They are made of mud and painted in white with red.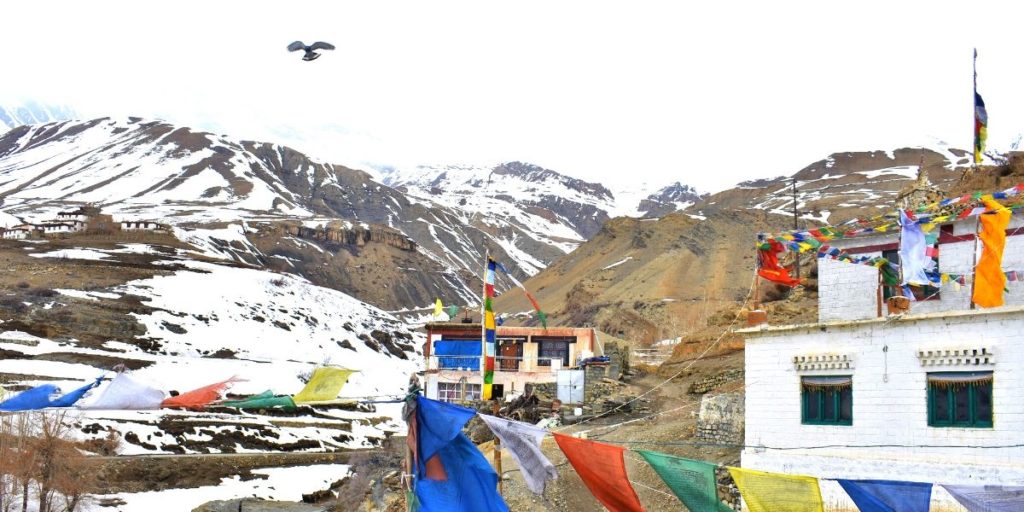 The village of Mud is the ending point of many Himalayan treks like Pin Parvati Trek and Pin Bhaba pass trek. Tourists visiting the Pin Valley often take their stay in the Mud village. Here the houses have been converted into homestays that have basic amenities.
Staying in traditional houses great experience. Unlike other regions of the Spiti Valley, this region is covered with grasses and herbs of medicinal properties. The food provided here is simple like dal(pulse), chawal(rice), roti(bread) and sabzi(vegetable), and sometimes bread butter for breakfast. There is no network coverage or ATM. The remoteness of this place is a charm in itself, one must enjoy the serenity.
4. Dhankar Monastery
Dhankar monastery is one of the most fascinating sites which offers amazing sceneries of Spiti Valley. It is located on the Kaza-Sumdo route at a distance of 24 km from Kaza. Dhang means cliff and kar mean fort, therefore, Dhankar means a fort at the cliff. It is overlooking the confluence of the Spiti and Pin river which offer a beautiful sight.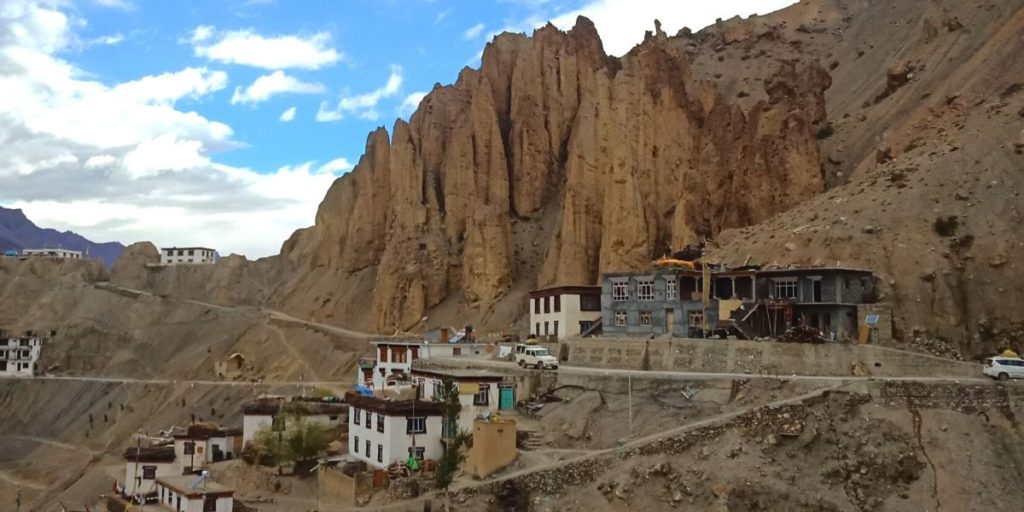 Near to the monastery is the  Dhankar lake which is a 2 km trek from the monastery.  What makes it more attractive is Tibetian flags flying in the air. Many people who visit Dhankar do not go to the lake but if you are a true adventurer you would not like to miss this beauty.
3. Hikkim – World's Highest Post Office
Did you know that the World's Highest Post Office is in India? Well, it is! It is located in the village of Hikkim which is in the valley of Spiti. Its Pin code is 172114. Just imagine writing a letter from here to your loved once or maybe yourself. It would be indeed a great memory to preserve!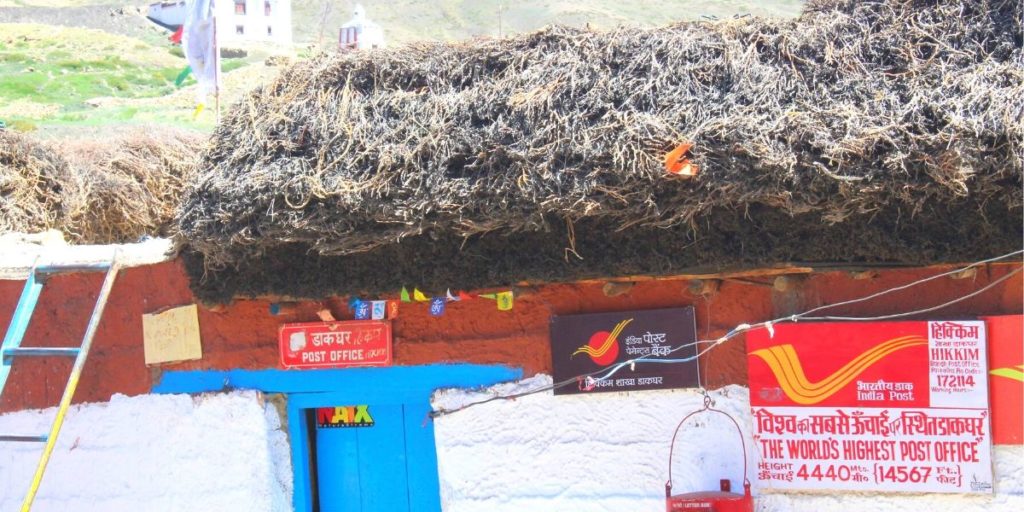 Hikkim is situated at an altitude of 4389 m above sea level and lies between Komic and Langza village. There are very few houses and a population of around 500-600 is all this village has. You must enquire about the timings of the post office before visiting it.
2. Chandratal Lake
Chandratal lake which is also known as the 'Moon Lake' is the most loved destination among people traveling to Spiti. The location of the lake is not less than living in heaven. It is beautifully placed on 'Samudra Tapu' plateau which overlooks the Chandra river.
The name of the lake is Chandratal because of its crescent shape like a moon. Chandra river has its origin in a glacier near Baralacha pass which further flows down to Kunzum pass and forms this gorgeous lake of Chandra Taal. It is from this lake that Chandra river originates and later joins the Bhaga river forming Chandrabhaga river which is a Tributary the river Chenab.
The Bhaga river originates from another lake called 'Suraj Tal'  which is the third-highest lake in India. What makes this place more interesting is the stories associated. Many legends have different kind of stories to tell and the beauty of this place do not deny either.
Some people find a connection of this place to Mahabharat which makes this place a sacred one. And some other stories say Chandra was the daughter of Moon and Bhaga was the son of Surya, the Sun. They both loved each other. The disapproval by the parents of not marrying each other made them elope. They both met at Kunzum pass and the celestial marriage took place. This touching story enhances the beauty of this place.
1. Key Monastery
The Key Monastery is one of the most famous attractions of Spiti Valley. This stunning monastery is located at an altitude of 4166 meters above sea level and is very close to the Spiti river. It is also the largest monastery of the valley and is as old as a thousand years.
Key Monastery is also a religious training center for the lamas. There are around 300 lamas currently residing here and receiving their education from here. This monastery has a long history of attacks and survival but the beauty embroidered net has never decreased. The monastery completed its thousand years in the presence of the Dalai Lama in the year 2000.
We can also create a custom Spiti Valley Tour itinerary for you. For the Spiti tour, you can contact us here.
Conclusion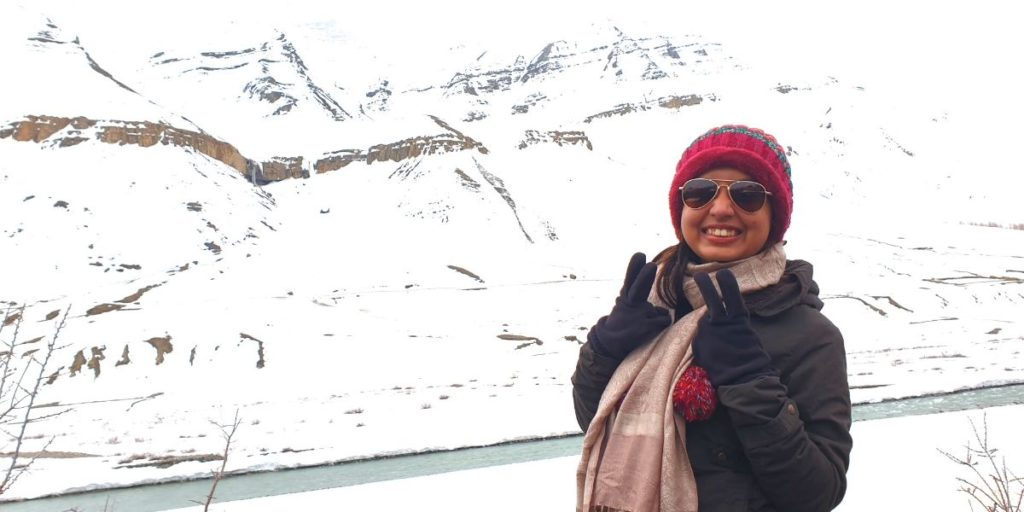 These were some of the best places to visit in Spiti. Which one is your favourite? Of course, you would be eager and curious to visit and know more. In between visiting places you can also go for trekking and roaming around the villages. Take some time to talk to the villagers and get a taste of the local life of Spiti Valley. It would be an unmatched experience!